Howdy Folks! Well, 2022 is nearly behind us, but it was a busy and productive time for Ol' Ron, with nine books coming out throughout the year. I released the following books in 2022: Hindsight, Haunt of Southern Fried Fear, After The Burn, Southern Fried & Horrified, Somewhere South of Hell Books 1,2,and 3, The Saga of Dead-Eye, Book 2, and The Dark'Un. If all goes well, 2023 may be just as chocked full of Southern Fried Horror as last year. Let's take a look at what we have coming up...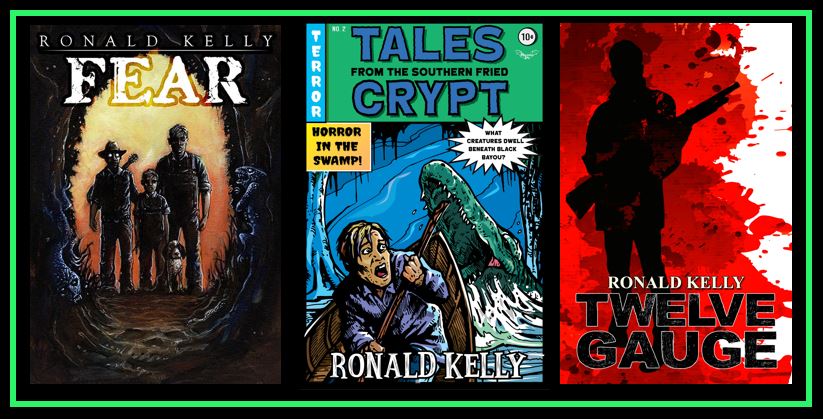 It looks like we'll be starting the first half of 2023 with three releases, the first one being the long awaited return of Fear in print in a new Author's Preferred Edition. The release date for this book will be January 10th. Then, around March, the second book in my EC Comics-inspired story collections, Tales From The Southern Fried Crypt, should be available to order. I'm also hoping to have the new paperback edition of Twelve Gauge (with a striking -- and bloody -- new cover by Chad Lutzke) out to you by the end of May (maybe even sooner).

As far as new writing projects are concerned, I'm currently beginning work on Fear Eternal, the long awaited sequel to Fear, which I hope to have finished by summer. I'm also working on a collaborative project with two very talented authors... a project that I unfortunately can't elaborate on at this time. I'll also be working on Book Three of the Dead-Eye series and a sequel novel of After The Burn. I'm hoping to release one more of the old novels before 2023 winds down as well, maybe Pitfall or Restless Shadows.

For biweekly RK news be sure to subscribe to my newsletter, The Fear County Chronicle. Check out Issue #14 and, if you like it, please subscribe.

I hope you enjoy using the RKHORROR online store for ordering signed and remarqued books from now on. Selling and shipping books via Messenger and DMs through Twitter and Instagram was becoming a little overwhelming and, to tell the truth, my record-keeping and shipping promptness wasn't all that great, considering how busy I was with writing and working a full-time job. Now that I've retired and devoted myself to writing full-time, I should be able to do a little better than before, both with the writing and the bookselling business. RKHORROR will make it a lot easy for both you and me, as well as being able to make payment transactions with a lot less hassle. I'm also offering prints of my artwork for those interested, as well as merchandise like t-shirts and such. If you like the new online store let me know. If there are some things you don't like, please let me know that too. I'm always up for making improvements and finding ways to satisfy you as a reader and a book buyer.